Affected by sleep apnea? Consult with our Grande Prairie dentists to learn more about possible solutions to help treat your sleep apnea.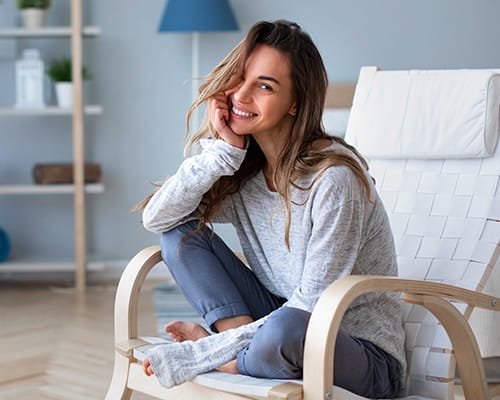 What Is Sleep Apnea?
Sleep apnea occurs when you least expect or aren't even conscious to notice it.
When asleep at night, your tongue may tend to drop and end up blocking your airway.
This is the basic definition of sleep apnea, which is diagnosed when the airway has been blocked for 20 seconds or more (and occurs several times per hour).
As an example, someone who has mild sleep apnea could stop breathing for at least 20 seconds five to 15 times per hour.
There are more severe cases of sleep apnea when this would occur at over 30 times per hour — over 200 times in a typical 8-hour night.
A Severely Underdiagnosed Disease
Only around 20 percent of people who have sleep apnea have been accurately diagnosed with it, usually because we don't realize we have it in the first place.
Therefore, sometimes the disease is harder to detect in patients who don't experience more typically severe symptoms.
Our Sleep Apnea Treatment Methods
There are two ways to treat sleep apnea. One is via the use of a CPAP machine, which is a technology that has been around for several years and is considered the gold standard. However, many patients refuse to or stop wearing it and therefore aren't treated.
At Access Dental, however, we have an alternative if you are uncomfortable with using a traditional CPAP machine.
As dentists, we examine and access the mouths and airways of patients to accurately identify risks and problem areas. We're very familiar with the symptoms of sleep apnea, with even some of our own team members diagnosed with the disease.
We can either refer you to a sleep study clinic or provide you with a self-administered diagnostic device to use at home.
While most individuals are referred to a local hospital for an overnight study, the equipment we use enables for more streamlined and comfortable treatment. These home devices are determined to be highly accurate, ideally suited to mild or moderate cases.
For more severe instances of sleep apnea, we still suggest that you reconsider CPAP machines as patients with such symptoms are at a higher risk.
Sleep apnea is often underdiagnosed, leaving many who don't even know that they have the disease at risk every night they go to sleep. At Access Dental , we can help with a range of treatment solutions, professional and knowledgeable service, and a commitment to your well-being.
Do you have sleep apnea?
Few people realize the risks and widespread occurrence of sleep apnea, a disease that is often overlooked and underdiagnosed.
Sleep Apnea Checklist
Do you snore loudly?
Do you often feel tired during the day?
Do you have or are being treated for high blood pressure?
Do you have a BMI over 35 (weight in kg, divide by height in meters, then divide again by height in meters)?
Is your neck circumference greater than 16 inches? 
Are you male?
If you answered 'yes' to 3 or more questions above, you might be at risk. 
Contact us today
 to book a consultation.